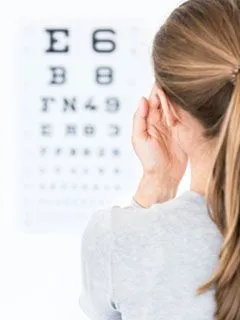 Although all of our senses are important, vision often takes priority in most people's minds. Taking good care of your vision is key to enjoying optimal sight at every stage of your life. At North Bay Optometric Vision Center in Rohnert Park, we cater to the visual needs of our local community by offering personalized optometry care services to your entire family. From routine eye exams to treatment of eye diseases, you can count on our team to meet all of your eye care needs.
Comprehensive Eye Exam
Our Rohnert Park optometrist recommends you schedule an annual or bi-annual eye exam to assess your visual acuity and eye health on a regular basis. During a vision exam, our eye doctor will test your visual clarity, eye focus and teaming skills, as well as look for signs of eye diseases and conditions that can impair your sight. As you age, you may experience vision changes that require the use of glasses or contacts to improve your sight. These changes will show up during a routine eye exam.
Eyeglasses and Contact Lenses
If you show signs of nearsightedness, farsightedness, or astigmatism, our Rohnert Park eye doctor will prescribe corrective lenses to give you clearer sight. For your convenience, we carry the latest eyeglass frames and lenses to match your prescription and budget. We can help you choose glasses that enhance your appearance and suit your lifestyle.
For those who prefer contact lenses, we offer different types, ranging from conventional soft contacts to RGP contacts, daily wear, extended-wear, disposable contacts, and more. Our Rohnert Park optometrist can schedule a contact lens exam and fitting to help you obtain the most accurate prescription and choose the contacts best suited for your needs.
Treatment for Eye Diseases and Conditions
During a comprehensive eye exam, we may uncover early warning signs of hidden eye diseases or conditions like glaucoma, macular degeneration, or cataracts. Although these diseases have no cure, we can recommend treatments to slow their progression and preserve your sight. We also offer treatment for pink eye, dry eye, and emergency eye injuries.
LASIK Surgery
LASIK is a surgical procedure used to treat refractive errors in order to improve your sight. This procedure reduces or eliminates your need for glasses or contacts to optimize your vision. At North Bay Optometric Vision Center, we screen LASIK candidates and provide post-op care to ensure you have a successful recovery from your LASIK treatment.
See Our Rohnert Park Optometry Specialist for All Your Eye Care Needs!
For quality eye care services you can trust, contact North Bay Optometric Vision Center in Rohnert Park by calling us today at (707) 584-7294.